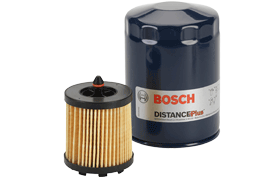 DistancePlus™ Oil Filters
Bosch DistancePlus Oil Filters are high efficiency and high capacity oil filters designed to keep oil clean longer and protect the vehicle's engine. It goes the distance with a 99.9%* efficiency rating to remove more dirt and is designed with 300%** greater capacity to hold more dirt. Bosch DistancePlus is the ultra-premium leader in engine performance protection.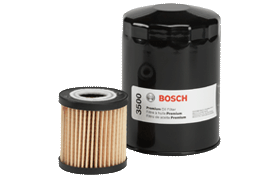 Premium Oil Filters
Premium engine performance requires a premium oil filter. Bosch Premium Oil Filters protect your engine by keeping harmful particles and dirt out, preventing premature wear and engine failure. Premium oil filters not only fit the same way as original OE filters, they utilize an exclusive blend of natural and synthetic materials in the media for superior oil filtration and increased engine protection.
Fuel Filters
Bosch Fuel Filters help to protect the most expensive parts of the engine by filtering out foreign particles that can damage a fuel injector. A damaged fuel filter can result in erratic performance, poor gas mileage and in some cases, complete engine shutdown. Even the smallest particles can cause considerable wear and tear to an engine. Protecting the fuel system and the engine from harmful particles, helps to prolong the life of your vehicle. Ensure dependable and trouble-free performance with a Bosch Fuel Filter.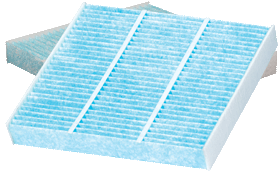 HEPA Cabin Filter
Bosch Cabin Air Filters are designed and tested to meet High Efficiency Particulate Air (HEPA) standards based on test standard ASTM D2986, and provides filtration efficiency of 99.97% at 0.3 microns*. This efficiency provides ultimate protection in trapping allergens, dust and other particulates that can enter your vehicle and provides the cleanest air possible for you and your family.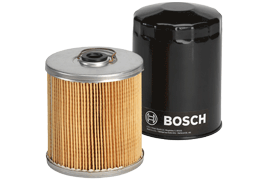 Workshop Oil Filters
Bosch Workshop Oil Filters designed for the professional installer.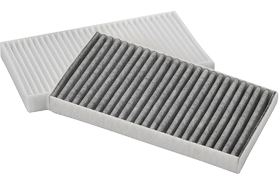 Workshop Cabin Air Filters
Bosch Workshop Cabin Air Filters are specifically engineered for the professional installer dedicated to helping customers breathe cleaner air. Bosch Workshop Cabin Filters offer an 80%* efficiency rate at 3 microns or greater in capturing dirt, dust and other environmental contaminants from entering the heating and air vents of a vehicle.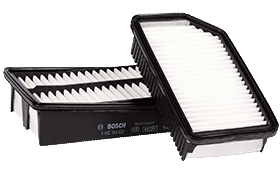 Workshop Air Filters
Bosch Workshop Air Filters are designed specifically for the Professional installer market offering 90% vehicle coverage to ensure installers will always have the right air filter.